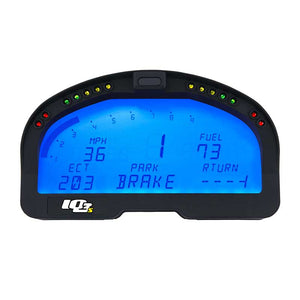 Racepak IQ3S Street Dash
Regular price
$1,359.95
$0.00
Unit price
per
Street Instrumentation Has Never Been Easier!
Racepak combines high-performance digital instrumentation with the indicators and warnings of a street dash into a compact and versatile product. Based on a rugged, race-proven design, the IQ3S street dash offers the easy to install convenience of a single unit, while capable of interfacing with over 20 aftermarket EFI systems, OBD2 or up to 32 standalone remote sensors.
Instrumenting your street vehicle has never been easier.
Racepak's IQ3S street dash solves all your high performance street instrumentation needs. Whether your latest project car is a late model engine swap, after market EFI equipped or traditional carburetor and distributor, the IQ3S street dash offers the easiest and most compact method to add late model digital instrumentation with the required street legal indicators, to your vehicle.
If you are looking to monitor additional information, Racepak's complete line of high performance motorsports style sensors can be easily connected to the rear of the IQ3S street dash, via Racepak's revolutionary plug and play, single cable V-Net sensors.
Compatible With 20+ EFI Systems
Easily stream and display information from over 20 aftermarket EFI units, to the IQ3S street dash via the optional EFI harness, while the included PC programming cable allows for complete display customization.
OBD2 Equipped Engines
Displaying information from 2008 and later OBD2 engines is a snap, with Racepak's optional OBD2 harness. Customize the IQ3S street dash with your choice of OBD2 information, utilizing a laptop and included programming cable.
Carbureted Engines
Standard ignition and carbureted engines can display data through the use of one pressure and two temp sensors included with the IQ3S street dash. Additional sensors available from Racepak.
Features:
Turn, High Beam, Park Indictors
Odometer, Speedometer Fuel Level
Optional GPS Speed Inputs
Internal input for OBD2 - 2008 later
Fully User Programmable
Four Display Screens
Replaces Up To 24 Gauges
Single Cable External Sensor Input
Internal input for over 20 Aftermarket
EFI systems
---