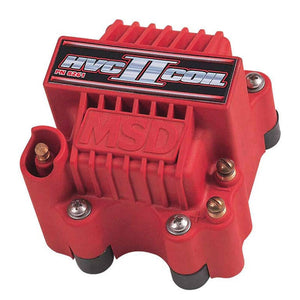 MSD Pro Power HVC II Ignition Coil
Regular price
$325.95
$0.00
Unit price
per
The HVC II Coil is built entirely in-house at MSD. It is designed to be used with MSD 7 and 8 Series Ignition Controls.
Coil Specs:
Turns ratio: 70:1
Primary resistance: .016 OHMs
Secondary resistance: 30 OHMs
Inductance: .250 mH
Maximum voltage: 45,000 Volts (Tested with 121-7530T Ignition)
Peak current: 2 Amp
Spark duration: 150 uS
Weight: 3.75 lbs.
Features:
Designed for racing applications with an MSD 7 or 8 Series Ignition Control
New U-core winding design produces more voltage and current
70:1 turns ratio and lower primary resistance produce high voltage output
Windings are encased in fracture resistant compound for vibration resistance
Dupont Rynite housing with isolated tower and brass primary terminals
Supplied with rubber shock mounts
No CARB Exemption Order Number
---