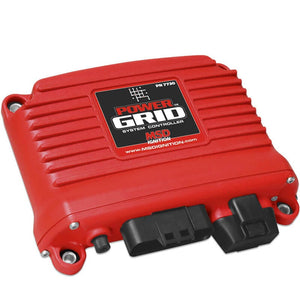 MSD Power Grid Ignition System Programmable Controller
Regular price
$589.95
$0.00
Unit price
per
MSD Power Grid system controllers are the brains behind the entire Power Grid system, and they can be used with any MSD ignition or Pro Mag to provide advanced ignition tuning capabilities. While they're compatible with all MSD ignition boxes, they've been specially designed to mount on top of the Power Grid 7 ignition box.
Features include:
* USB connection for easy programming
* Timing based on engine rpm and gear value
* Advanced individual cylinder timing based on gear or time
* Five retard stages for nitrous
* Four steps of rpm limits for burnout, spool, launch, and overrev
* Output switch set on rpm, pressure, or time
* Shift light settings for each gear
* Ignition data acquisition accepts multiple runs
* View software
* Wiring harness
* Micro SD-card
This is the "brain" of the Power Grid System - designed for use with the 7720 ignition controller, but compatible with many of our other popular ignition boxes. Requires a Windows-based laptop for configuration.
---