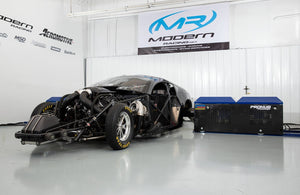 Hub-Dyno Service - Deposit (Non-Refundable)
Regular price
$100.00
$0.00
Unit price
per
Modern Racing now offers a state-of-the-art hub dyno, capable of 6,000 hp and 9,600 ft-lbs (13000 Nm) axle torque. Sign up here and put your deposit down for either half-day of full-day dyno services.

Save time and expensive track rental, by simulating 1/8-, 1/4-, or 1/2-mile runs with testing speeds capable of over 300 mph. Our premiere hub dyno service allows for an up-close look at immediate data throughout an entire run.
The Modern Racing dyno is the answer to those vehicles which require more traction and accuracy. Bolting the axle hubs directly to the dyno eliminates variables such as strapping technique, ramp rate of tires, tire compound, sidewall pressure, and traction, which interfere with the accuracy and repeatability of testing. These inaccuracies increase with high-output vehicles, resulting in misreading and increased time tuning.
Generally, the drive axles are straight, however, our dyno can accept +10- or -10-degrees of camber and 10-degrees of toe in or out.
All dyno rentals include a dedicated technician to mount the vehicle on the dyno, operate parameters, activation, and light tuning. Dedicated tuning is available per request. The Modern Racing dyno accepts two drive axles at one time, however, it can be run in either direction, accepting FWD vehicles and AWD vehicles. Outside tuners are welcome.
DYNO RENTAL RATES:
$250/HR
$800 HALF-DAY RENTAL
$1,500 FULL-DAY RENTAL
DEDICATED TUNING RATES:
$150/HR 
$1,000 FULL-DAY
**Dedicated tuning not included in dyno rental rates. This deposit holds a spot for you on the dyno, and the remainder of the dyno cost shall be paid on the day of the service.
---